Study Away in Barcelona: Experience of a Lifetime
During the month of June, 74 USC College of Information and Communications students will embark on a life-changing experience to Barcelona, Spain. Visual communications instructor Scott Farrand and public relations instructor Kelly Davis will teach the students about international communications and guide them in the production of multimedia projects. The projects will highlight Barcelona's food, architecture and culture during the group's four-week stay in the Catalonia region. The class will also take a five-day excursion to Aix-en-Provence, France to expand their cultural understanding of world communications with real-world practice.
Under the direction of CIC staff member, Kelsey Ashford, the students document their experiences while abroad and provide their audience with insights on the history and culture of these two Mediterranean cities. Keep up with them here!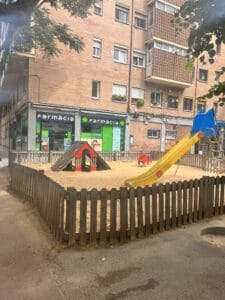 Strolling through the streets of Barcelona you are sure to come across one of the many playgrounds that are integrated into the city. Unlike most big cities, Barcelona should be regonized for incorporating a fun, safe, and accessible place for children to play.
Read More »