If you have heard anything about the beaches in Marseilles, you have heard a lot about the Calanques, which are steep valleys and cliffs found on the coast of the Mediterranean, and that there are many small secret beach spots throughout the city. On a whim on our day off in Aix en Provence, four of us began vigorously searching for cheap fares to the city of Marseilles 30 minutes away, and figure it out from there. One of our group members found out about the Calanques from the nice breakfast guy that worked at our hotel. We promptly decided he is our best friend. Upon further research, we found that there was a possibility that the public park the Calanques was in may not be open to the public on that day. I called to try to find out but alas, didn't know French. We decided on a beach called Le Mont Rose but when it was 30 minutes away from the bus station from which we arrived, we tried for something closer. This led us to find one of the secret spots in a neighborhood slightly off from the main strip near the public beaches.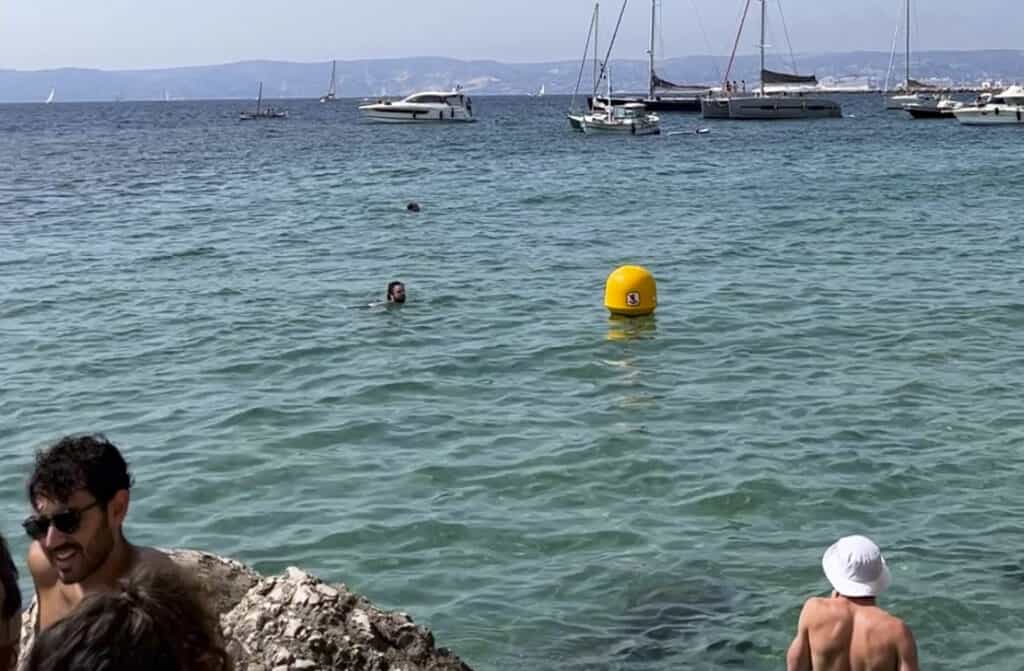 On a hot, beautiful day, this particular beach was crowded with locals. Calling it a beach might also be misleading; there was a small walkway of cement leading to some rocks that people were jumping off to go swimming and relax on. The water was clear, blue, and refreshing. Dismounting into the water was a challenge because of how worn down the rocks had become from the water, leading them to be sharp to climb on with bare feet. Three of us decided it to be our mission to swim out to this other big rock about 100 yards out from where our 'beach' was while one of us stayed back to watch our stuff as per the "beware of pickpockets" sign we saw when we entered. This journey to the big rock proved to be further than we thought but we persisted. When we got to our new island, we discovered this rock to be just as sharp and rugged as the first, when two of the three swimmers returned with bloody cuts on their feet and hands, leaving (me, the third) to decide to sit the climbing out and float around. 
The swimmers returned to the original beach and relaxed for a while, snapping pictures and people-watching before swimming one last time. We dried off and decided to go to the main strip for a sweet, cold treat before making our trek back to Aix en Provence for the night. We had to be at the hotel at 8 a.m. for the bus back to Barcelona the next day, and the buses did not run all night, so we didn't want to risk anything. The hot sun and long swim to the big rock wore all of us out for the night so we decided going home after that was the right move. It was an experience we will never forget and a once-in-a-lifetime opportunity!