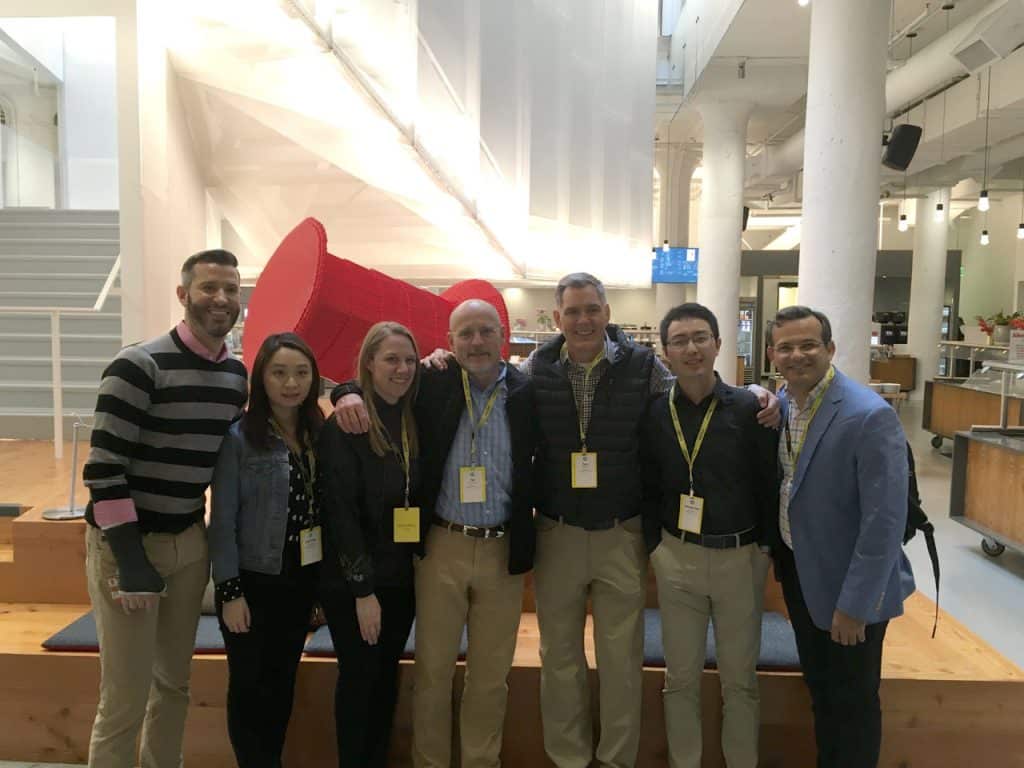 The UofSC faculty group visited Pinterest headquarters in San Francisco on Wednesday afternoon from 2-4:30 p.m. The building was originally designed to sell used tractors and farm equipment, which explains the numerous stout, wooden columns that run from floor to ceiling that once supported heavy machinery. 
Today, the space reflects a bright, cheery, industrial chic that mirrors the Pinterest culture of being a positive space on the internet. Here, "pinners" as they are called, focus more on curating the personal media of their own interests rather than building followers through the "look at me" tactics of social media. 
Snack bars with free food and drink abound, there are kitchens on each floor, an in-house laundry service, post office and tech support station where employees  can get the latest gadgets and all their computer problems fixed. One might wonder, or worry, if an employeee would ever need to leave the building. 
After a tour the group was given a briefing about Pinterest's culture and marketing strategies. 
A few Pinterest factoids:
– Pinterest has 320 million active monthly users
– Users are about 80 percent female. However, four in 10 new users are male.
– Mothers are big users. Eight out of 10 U.S. moms use Pinterest.
– As of today there are about 200 billion pins on Pinterest boards.
– When comparing the impact of static image pins versus video, static images have a greater click-through rate, but the company's research shows that videos result in greater "brand lift" or consumer awareness. 
– The most popular categories of pins are food, beauty, fashion, home, travel, drink, babies, pets and weddings.
– Pinterest makes its money from advertising in the form of sponsored pins, which are usually crafted to visually look like user pins.
-Ad revenue last year was $797 million, up from $299 million in 2016.