It's a completely different experience seeing things in person. From the famous Starfield Library, historical Gyeongbok palace, lively Gwangjang Market, to the calming N Seoul Tower — these places all hold different experiences upon visit.
별마당도서관 — starfield library, COEX mall
My study abroad program, CIS Abroad, rented a bus and took us all around Seoul to drive through a few districts. Upon visiting Gangnam, we stopped by 별마당도서관, or Starfield Library, a two-story library with 13-meter-tall bookshelves home to over 50,000 books and magazines in the center of COEX Mall. Before entering the library, outside was the golden Gangnam-style hands statue from PSY's 2013 song, "Gangnam Style", and upon entering there were clothes stores. Inside the library, there was a Starbucks on the first floor and a cake shop on the second floor. There's a lot to do at COEX Mall, but the Starfield Library is the highlight!
경복궁 — gyeongbok palace
Out of all the places we visited on this day, 경복궁, or Gyeongbok palace, was my favorite visit. The architecture buff in me was having the time of its life seeing the colorful eves and intricate details throughout the palace. Learning about the rich history of the place was wonderful as well, and the weather was great on the day we visited. The overall atmosphere was quite calming, and seeing other visitors wear hanboks only elevated the experience. I strongly recommend that everyone visit, especially since you can get a full tour in English for free, admission is less than $3, and if you wear a hanbok, you get free admission!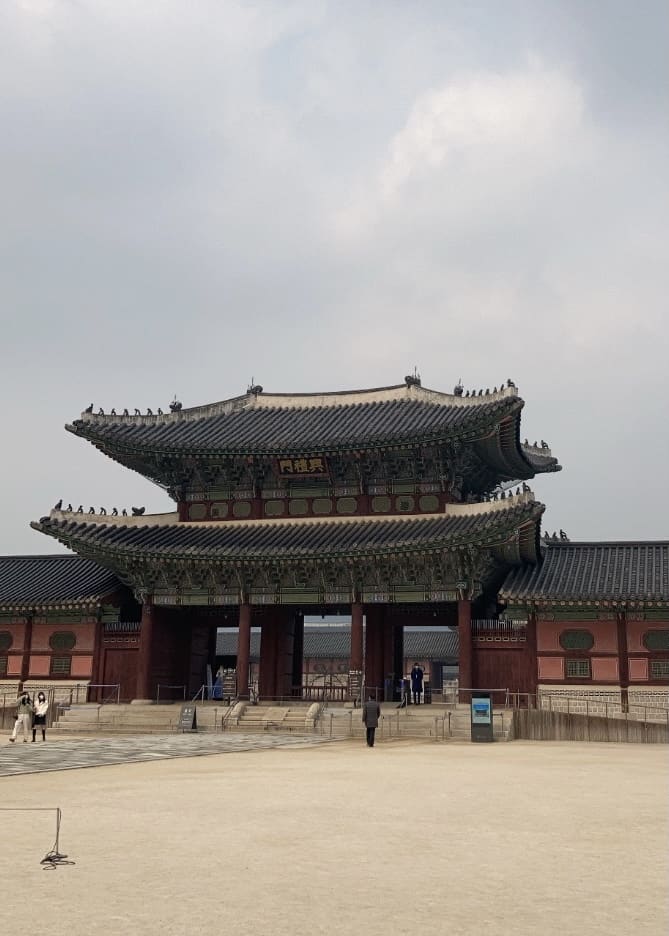 광장시장 — gwangjang market
Next stop was 광장시장, or the Gwangjang Market — we only got to spend 30 minutes there, but it was lively. Street food at every corner with long lines, countless street vendors and so many things to see. My friend picked up a mattress pad here for her bed back at the dorm, as did some others. Next time I visit, I'll have more pictures to share! (A/N: My only photo of the market is the third photo in the first set of photos in this post.)
N서울타워 — n seoul tower
The famous N Seoul Tower or Namsan Tower was our last stop. The tiny hike up to the tower from the bus stop was a lot of fun, and made for good exercise. It was a bit foggy on the day we visited, so we couldn't really see a clear view at the top of the tower, but the view and atmosphere were still worth it. At the top, we saw a nice view over the city, the Namsan love locks where couples "lock" (or box?) their love, and people exercising! A wonderful place to get some fresh air and creative inspiration.
Overall, this was a great day of sightseeing, and I'd like to express my thanks to CIS Abroad for a great itinerary.
Classes begin this coming Wednesday, March 2nd (tomorrow for me). I've been out of school since early December, so I'm looking forward to studying and being productive once more. Sogang University has the nickname of "서강 고등학교", or "Sogang High School", since all students do here is study — I'm looking forward to continue to learn more about my major in a different country and culture, and I'm curious to see if the approaches are different than that of America. It's been a lot of fun exploring the city and getting assimilated as a Seoulite ~
Greetings from the end of my week-long vacation, 
Hui